One of the most read article here on Viral Media Today is my "Fool Your Friends With WhatsApp Hidden Image Trick" article. Today I will introduce you to a new App which helps us to create fake WhatsApp Conversations. So, lets Fool your friends with WhatsApp fake conversations.
The App's name is Whatsaid, developed by Totem Studio
Basically this app will help you create fake conversations which never happened and share with your friends as screenshots. Cool, right?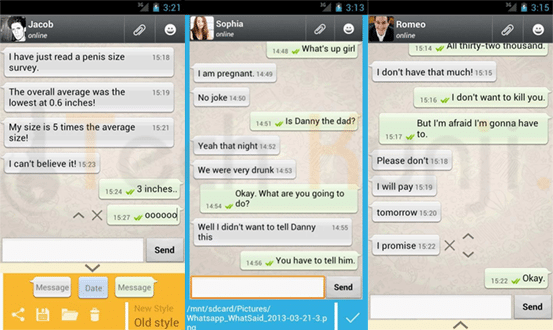 Every single element of this app is editable giving you full control. You change the display picture, last seen date, conversation date, background image. When you open the app for the first time you will be taken through a small interactive tutorial. After creating fake conversations the app allows us to share the image with our friends.
 The only feature missing is the option to add images to conversations. Hope they add it soon. Also, most of the emoticons are missing. But still the app does a good job in pranking your friends.
You can download the app from Google Play for free. Download link below.
[ibs text="Download Whatsaid" tooltip_text="" color="black" icon="download" border_radius="small_radius" size="large" link_url="https://play.google.com/store/apps/details?id=com.tommiAndroid.WhatSaid&hl=en" link_target="_blank"]
Enjoy fooling your friends. Share the fake conversations you created, with us. 😉