When we started designing shortofthemonth.com, one of the most important item on our list was a form builder. We jotted down all the required form fields we wanted and saw we had more than 20 fields and our server was not capable of handling more than 500 per day. Just after the 4th day of launch, our WordPress server crashed, we requested a crash report from our host and found out the issue was our form plugin. We panicked, because one of the important part of our site is broken. I went to the WordPress plugin directory and started searching for a new builder, but this time I tried for a plugin which stores submissions in another server. I shifted my search to CodeCanyon and still couldn't find any good plugin.
One thing I didn't do all this time was to Google for a form builder. I was under the impression that WordPress Plugin directory and CodeCanyon had the best plugins, so didn't bother searching outside them. I googled "form builder" and tried all the results one by one. The one which got my attention was "JotForm", the main feature which attracted me was the drag and drop. Well, who don't like the painless Drag n' Drop? They let me try the form builder without logging in, that contributed to my decision making process.
So now let's talk about what JotForm can do. I will mention all the main features that mattered to us and write a new article about all the features provided by JotForm.
1. Conditions
Conditions where one of the main feature we required in our form builder and we chose our previous form builder because it had the conditional field feature. Let me explain conditional fields for those who didn't get it.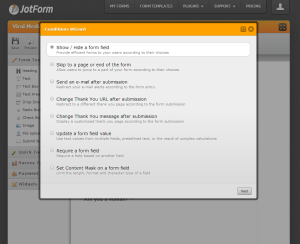 Imagine you are a bookseller who sells both Physical and Digital books. You sell your books through your site and you want your customer to fill a form so that you can fulfil the order. Without a conditional form you will have to set-up two different forms in the physical book order and digital download orders. But with conditional form you will only have to set-up a single form. Create a condition like this,
When Physical Book is selected show "Mailing Address" and when Digital Download is selected show "Email Address".
2. Integrations
Email mail list plays an important role in building a good customer base. We use MailChimp to deliver our newsletters and JotForm provides the option to integrate MailChimp with JotForm. If you set it up, email address will be sent to your MailChimp list. Mailchimp integration is just one of the integration they provide. Other amazing integrations are PayPal, Google Drive, Google Spreadsheets, Dropbox and many more.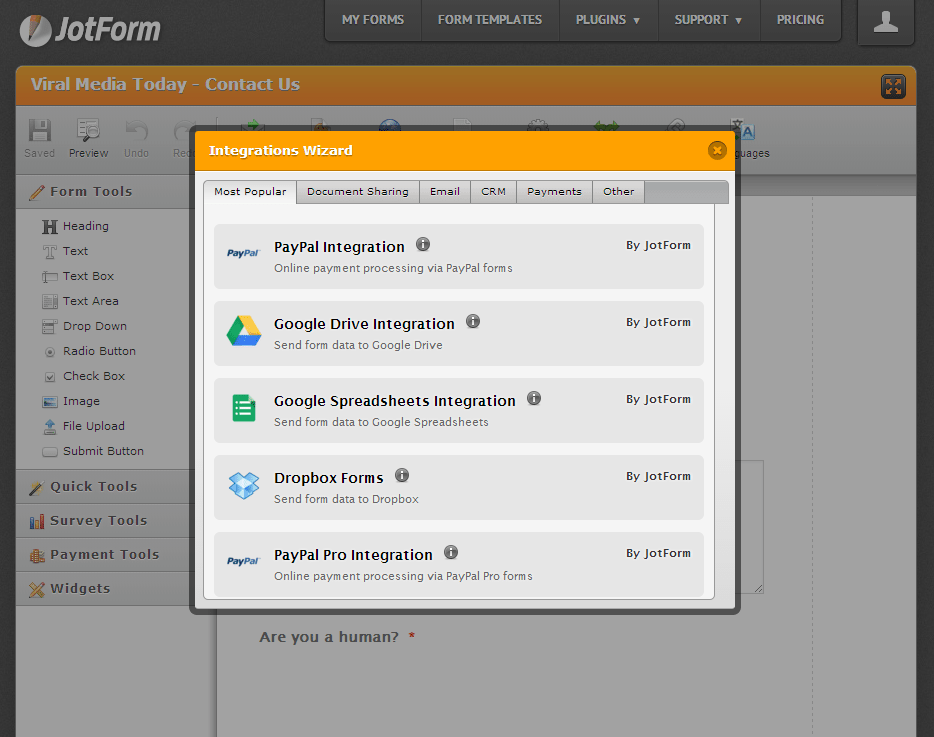 3. Email Alerts
At first I used Email Alerts, just to receive notification when a new submission is made. Also used it to alert the form submitter. But when we moved to our new CRM, the Email Alert feature was a blessing. Oh, the joy we had when we found out that we could automate our selection process.
You can customize Email Alerts however you want.
4. Embed
You can embed forms made with JotForm literally anywhere. Anywhere, where embedding is allowed. You can embed it as a lightbox, pop-up, as feedback button, normal web page embed, etc...
5. Thank You Message
This is an important part, you need to tell your customer that their form has been submitted successfully or else they will resubmit again and again. Trust me, it happened to us with our old builder, people kept on resubmitting thinking the form was not submitted. With JotForm you can display a simple thank you message or redirect to a custom page you made. Perfect for taking visitors to a landing page once they sign in for your newsletter.
6. Support
JotForm has a world class support team, your issue will be attended within 1-2 hours and most probably your issue will be solved. Make sure you describe your issue properly so that the support team gets a clear vision of the issue. This is will make the solution process is faster.
7. No Strings Attached
Some say that there is nothing called Free in this world, "Free" always come with strings attached. All the other free form builders come with the builder's logo or their branding in one way or another. That's not the case with JotForm. JotForm does not brand their form with JotForm logo, no one would even know that you are using JotForm. The only way people will know that you are using JotForm will be by noticing the email address they received the confirmation mail. Oh wait, JotForm even allows you to change the email to a custom sender email. Epic, isn't it. Go to your email setting and enter the necessary details to make your own custom sender email. I can promise you that, you can white label JotForm completely.
The only limitation is that we can't receive more than 100 submissions per month using a free account. But that is totally understandable. If you are getting more than 100 submissions per month you might be having a pretty good business, pay the awesome guys at JotForm some profit you make. Just kidding, but 100 forms per month is a good deal.
My Final Take:
Ways you can make amazing forms using JotForm is endless and the time saved is countless. Visit the apps and form widgets section to give us more customization and integration options. JotForm is the best form builder out there that I know of. As mentioned earlier, JotForm can be integrated everywhere. It can be also integrated into your favorite CMS' like WordPress, Drupal, Joomla, etc... Give it a try and you will defiantly love it.