Alternatives to Catch Notes (Catch.com)
Catch Notes a free note taking application is shutting down on 31 August 2013. Catch notes is a cross-platform app and can be also accessed using your web browser. The app have around 5,000,000+ downloads on Google Play Store but wasn't that famous in Apple App Store. So this list will be more focused for Android users, but I will mention if the alternative is available for Apple products. Below find some alternatives to Catch Notes.
Google Keep (Android)
Google Keep is a good alternative but you will be not able to import your Catch Notes as Google Keep doesn't have any option for that. Google Keep is available online and via an Android app.
Advantages:

Both the web and Android versions are free
Color coding of items to categorize them (blue for work, red for home, etc.)
View items in a list or grid display to show data in a way that meets your preference
Familiar interface for frequent users of Google services
Search capability
Finally offers the "Notes" option many Outlook users relied on
Works well with no unexpected curveballs

Limitations:

Can only import local images; web images must be saved locally then imported
Can't edit images
Can't print notes
Can't tag objects
Can't order or group items
No administrative management (e.g. Through Google Apps)
No sharing of objects from the web interface (however, the Android app lets you post a note to email or social media).
No collaboration capability
No offline capability for the web version
ColorNote Notepad Notes (Android)
Color Note is a simple notepad app. It gives you a quick and simple notepad editing experience when you write notes, memo, email, message, shopping list and to do list. Color Note makes taking a note easier than any other notepad and memo apps.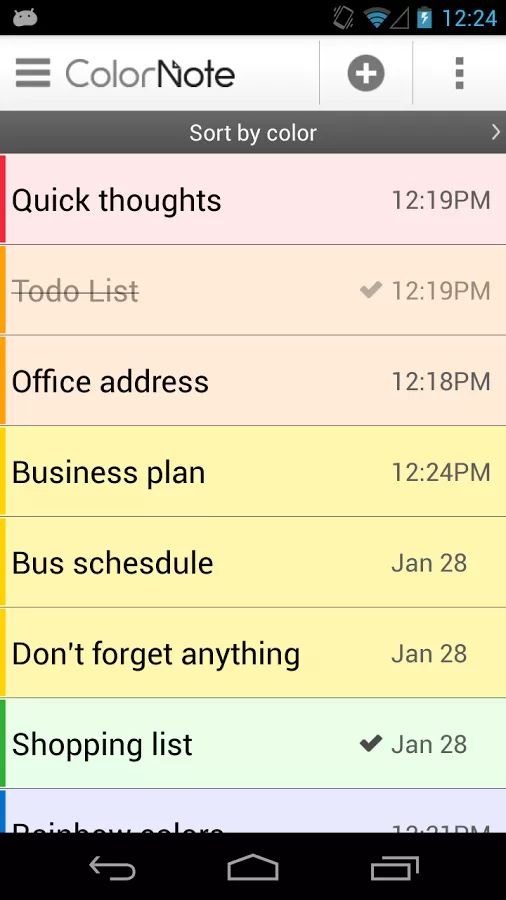 Organize notes by color
Sticky Note Widget
Checklist for To do list & Shopping list
Checklist to get things done (GTD)
Organize your schedule in calendar
Password Lock

note

:

Protect your notes by

passcode

Secured backup notes to

sd

storage
Supports online backup and sync. You can sync notes between phone and tablet.
Reminder on status bar
List/Grid View
Search notes
Notepad supports ColorDict Add-On
Powerful Reminder

:

Time Alarm

, All day, Repetition

.

(lunar calendar)
Quick memo / notes
Share notes via SMS, email, twitter
Use color to categorize notes
Online backup and sync cloud service
Sign-in with Google, Sign-in with Facebook.
Evernote (Android and iOS)
Evernote is an easy-to-use, free app that helps you remember everything across all of the devices you use. Stay organized, save your ideas and improve productivity. Evernote lets you take notes, capture photos, create to-do lists, record voice reminders–and makes these notes completely searchable, whether you are at home, at work, or on the go.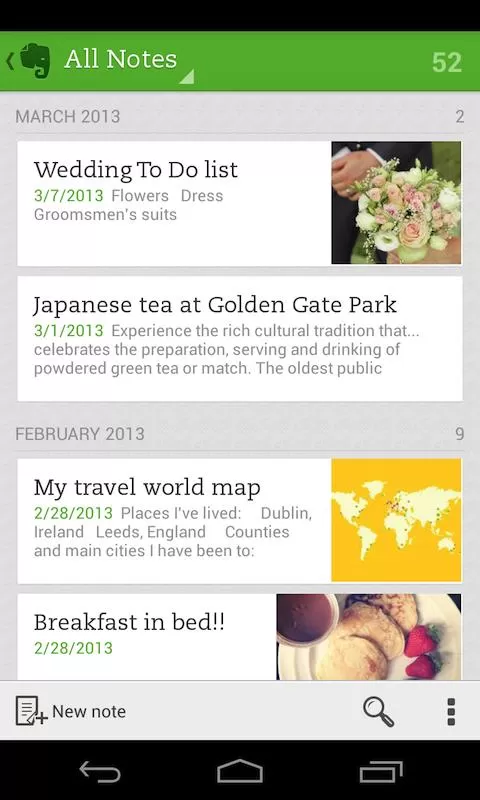 Works with Evernote Business: Capture, browse, search, and share Business Notes and Business Notebooks from your Smartphone or tablet.
Sync all of your notes across the computers and devices you use
Create and edit text notes, to-dos and task lists
Save, sync and share files
Search for text inside images
Organize notes by notebooks and tags
Email notes and save tweets to your Evernote account
Connect Evernote to other apps and products you use
Share notes with friends and colleagues via Facebook and Twitter
Conclusion
All this app doesn't allow to import data. I will be doing some research to find a good app. Please let me know if you have any apps which you already found which will help us to import data from Catch.
Evernote allows users to export Catch spaces. Read our article how to import catch notes to every note here.