An average of 100.5 billion emails were sent and received during the year 2013.  Out of that 100.5 Billion were business (marketing) emails and 82.4 were personal. By 2017 overall email traffic is expected to reach 206.6B per day*. So if you haven't got a custom domain and email for your business, it's high time.
Most of the businesses do have their own email, but they use free email services which they get from their server host or domain registrar. So what's wrong with that, huh? This article will help you understand the cons of free email services which you get from hosting providers and domain registrar.
Domain registrars advertise "50 free email accounts with all domain purchases". And everyone falls for this. Ever wondered why Google charges $5 per user for their Business Apps? That's because sending emails is not just a message being sent to one server from another. It involves multiple security checks. These checks include verifying the sender's credibility, scanning for virus, etc. This is were free email services fail. These free services do not provide verification details for your email and the result will be, your email ending up in receivers junk folder.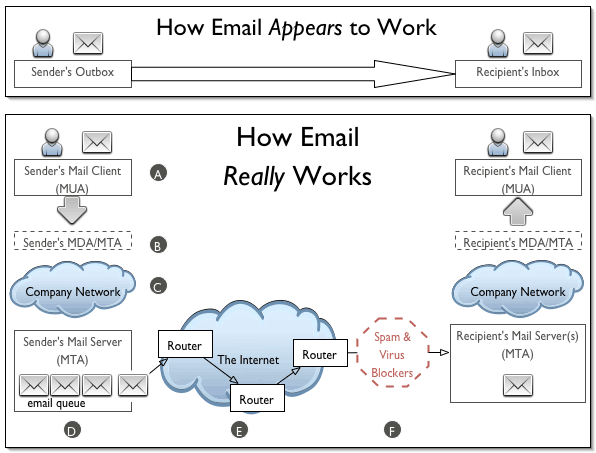 During the earlier stages of www.shortofthemonth.com, I used the free email from Godaddy which I got with the domain. I thought everything was going fine and one day I forwarded an email to my live.com account and it wasn't delivered. Later found the email in the Junks folder. After this incident, I included  "Please acknowledge receipt of this email" along with the email signature. Noticed that only Gmail users responded back. I created a new live account and mailed to it from short of the month's email and saw that it was being sent to junks folder. Tried the same with my Gmail account and the mails were delivered to the inbox.
I contacted Godaddy and asked them about this. They responded, "You will have to contact live.com regarding this. There is nothing we can do regarding this as this is not our fault". At first I thought this wasn't their fault as Gmail was accepting the emails. I went to the Microsoft forum with this and still the issue wasn't solved. For 3-4 months I had to sacrifice my emails which were sent to live.com.
After 3-4 months I came across a banner ad about Google Business. Thanks to targeted advertising. I signed up for 30 day trial and Bam, all the emails were delivered directly to inbox. I mailed to live.com accounts and everything was delivered to the Inbox. This made me a fan of targeted advertising. Google knew what I needed and they delivered it. After the 30 day trial, I purchased Google Business and is really happy with it. We get more than what we sign up for.
Think before using free email services. Small businesses who can't afford paid email services can try Zoho Mail. They provide up to 5 free accounts and yes, emails will be delivered right to your customers inbox. I am using Zoho Mail for my personal website. Not all free email services are bad, but don't use the one's which you get with your server or domain.
I even lost a $500 content writing opportunity for a big WordPress theme developer. When they contacted me, I was really excited and replied back that I am ready. I got their reply after 3 weeks and it said that they are sorry for replying late and that was because my reply to them was in the spam folder. They saw it that day and they had already got the person to write for them. Well, you learn from your mistakes.
What do you think about free email services? Are you using one?
*Source: Redicati